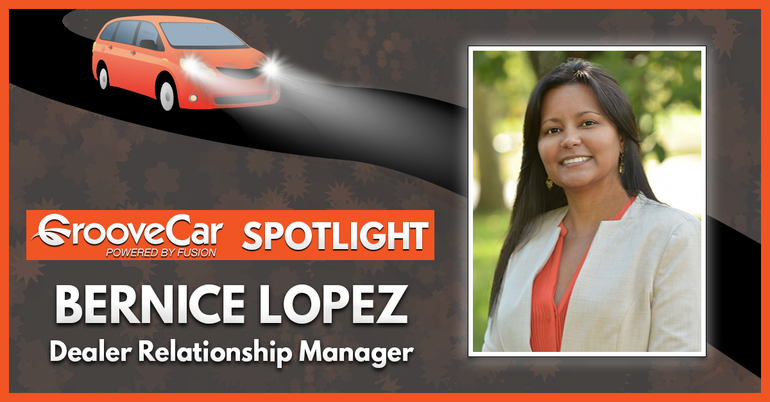 What's the best part about being a Dealer Relationship Manager at GrooveCar? Bernice Lopez says, "It's interacting with dealers and helping them maximize their profits with our products and services" – something Bernice has been successfully doing since joining the GrooveCar team in 2019.
Tasked with building and maintaining strong relationships in North Jersey, Bernice is also responsible for ensuring the success of our current CU Xpress Lease dealers by using analytics to provide best practices for increasing engagement and utilization levels. Always there to assist with funding or any other issue that may occur, Bernice has the tools and support you need to shift your profits from our program into overdrive.
Why are you proud to work at GrooveCar?
Being a leader in the industry for so many years, GrooveCar has developed a strong reputation and has established a foundation of integrity in the marketplace.
What is your favorite memory at GrooveCar?
During my first day on the road, my manager surprised me by giving me a bag of M&M's. While it was simple gesture, I was touched that putting me at ease was important to him.
What was your first car?
1985 Ford Fairmont
What do you currently drive?
2010 ML 350
What is your dream car?
White Lamborghini
Favorite movie car?
Wonder Woman's Invisible Jet
CU Xpress Lease is the nation's #1 originator of credit union auto leases. Our program does not compete with your captive, instead targeting vehicles not supported by the manufacturer. This allows your dealership to sell more vehicles and increase profits! Interested in learning more? Request more information from Bernice here.